Danger Area D-123
Directly behind the top landing area is the 'Imber' Air Danger Area D-123 which has a ceiling of 50,000 feet making it impossible to transit unless you are flying a Virgonian BeamShip.
The northern edge of the danger area is bordered by a military road and the 'Wendy Windblows' site. Try not to fly south of this point, especially if the guardpost is flying a red flag (FIG.2 in yellow text).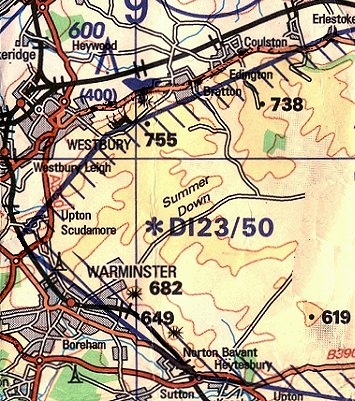 FIG 3. The Danger Area and the flying site
XC TECHNIQUES TO AVOID D-123
While it is true that this set of danger areas are occasionally notified as inactive on a weekend we still do not fly back of the slope en-route XC. The danger or unexploded ordnance and the long walkout if you do bomb is always present. Also it would only take one or two mistakes for the military to consider requesting a no-fly zone at Westbury.
Going WEST and then south: It is possible to fly to the edge of the chalk quarry and then follow the low ridges and head southwest direct to the WEST edge of Upton Scudamore village, which is just outside the zone. At this point you may turn south and follow the A350 or turn SSE direct to Warminster town to clear the zone area.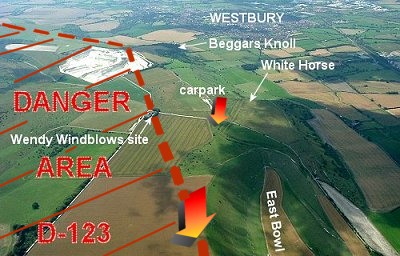 FIG 1. The flying site looking WEST
Going EAST along the north edge of the zone: This is pretty trouble-free but note that the B3098 road dips into the zone at EARLSTOKE village so use the railway line as a southmost boundary east of this point for a few miles.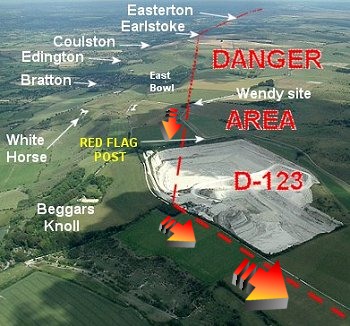 FIG 2. The flying site looking EAST
FOR MORE XC DETAILS CLICK HERE.